Bloodroot (Sanguinaria canadensis)
Bloodroot is also known as Puccoon or Red Puccoon, Indian Paint, Redroot, Pauson and Tetterwort.

Plant Type: This is a herbaceous plant, it is a perennial which can reach 25cm in height (10inches). Only about half that high at the time of blooming.
Leaves: This plant has basal leaves only. Leaves can be as wide as 20 cm (8inches). There is usually only one leaf which has five to nine lobes. It is much smaller at the time the flower is open.
Flowers: The flowers have numerous parts and are up to 5cm wide (2 inches). They are white with yellow center. Blooms first appear in late winter and continue into early spring. The flower usually has eight symmetrically arranged petals four large and four smaller, but can have up to twelve and sometimes sixteen.
Fruit: A two part capsule pointed on both ends with a row of seeds in each half. (see 'Other Images' below)
Habitat: Rich woods. Usually on banks or slopes.
Range: Most of North America east of the Rocky Mountains.
Color Photo
More Info
Classification
---

Ads on this page help pay for this site but if you see one that seems inappropriate here such as one that is counter to the pro environmental theme please let me know which Ad and I will block it.
Report a Bad Ad
---

Daniel Reed


This is the only species of the genus Sanguinaria. While sometimes locally abundant, this plant is generally somewhat rare. It is known from areas that have been little disturbed usually on hills and mountains. A blood red juice can be extracted from the reddish orange root, actually a rhizome, hence the name Bloodroot.

Lore: The juice from the root was used as a body paint and dye by Native Americans. Warriors painted their faces with it and maidens their bodies. Reportedly a woman was given as a bed mate to a colonist at Jamestown by a local tribe and was presented wearing only a coat of red body paint made from Bloodroot.(Dobelis) The root juice has been used as a dye for fabrics producing a yellow orange color that is very fast. It has also been used as a charm. Young men of the Ponca tribe would put the juice of the root on their palm and contrive to shake hands with the maiden they desired to marry and in five or six days she would be willing to marry him.(Foster & Duke) Applying the root or juice to the skin is a questionable activity as the plant is known to be an escharotic, a substance that kills tissue. See warnings below.

Medical Uses: Native Americans, early settlers and herbal practitioners have prescribed Bloodroot for myriad medical conditions from skin cancers to sore throats. Its most persistent and possibly valid use takes advantage of the flesh destroying properties of the root juice or powered root for treating conditions of the skin such as ringworm, warts, polyps, fungal growths and the like. Researchers are investigating the root's value in cancer treatment. An extract has long been used in toothpaste and mouthwash to fight plaque and gingivitis and this use is now sanctioned by the U.S. Food and Drug Administration. The root has been used internally, in very small doses, to stimulate the digestive system and as an emetic. Self medication should be avoided, as the plant can be toxic. Even small doses can produce unwanted effects such as visual distortions. Warning:T The FDA considers Bloodroot "unsafe" and urges that it not be used by herbal healers. It is far to attractive a plant to dig up anyway. (Erichsen-Brown) (Foster & Duke) (Dobelis)

---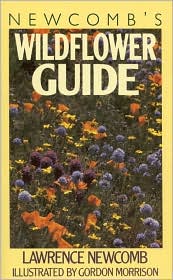 By: Newcomb, Lawrence and Illustrated by Morrison, Gordon. 1977, Little, Brown and Company, ISBN:0-316-60442-9

One of the best general guides to wildflowers of the North Eastern and North Central United States. Newcomb's key is an excellent, simple method for identifying plants. Newcomb has drawings for almost every plant mentioned that are excellent aids to identifying the species. Though only the more common plants are covered this is often the first book I pick up when trying to identify a wildflower.
---
Wildflo wers of Tennessee the Ohio Valley and the Southern Appalachians
By: Dennis Horn and Tavia Cathcart and Thomas E. Hemmerly and David Duhl. , ISBN:1551054280

This is perhaps the best of many field guides covering this region. Featuring 446 excellent color photographs (located with the text) and mentioning as similar to those illustrated are another 800 or so species for a total coverage of over 1,200 species. The start of each family section includes line drawings of some of the species showing important features. The text includes the usual description, bloom season, range, habitat and additionally includes information such as medical uses and lore and how the species was named. This is the official field guide of the Tennessee Native Plant Society.
---
---
Kingdom
Plantae
Plants
|
Division
Magnoliophyta
Angiosperms / Flowering Plants
|
Class
Magnoliopsida
Dicots / Two Seed Leaves
|
Subclass
Magnoliidae
Magnolia
|
|
Family
Papaveraceae
Poppies
|
Subfamily


|
Tribe


|
Genus
Sanguinaria
Bloodroot
---
Welcome / Glossary / Books / Links / Feedback / Image use policy
---
www.2bnTheWild.com - Wildflowers of the Southeastern United States, Page updated on 12/18/2003 7:31:28 AM.