Jack in the Pulpit (Arisaema triphyllum)
Jack in the Pulpit is also known as Indian Turnip.

Plant Type: This is a herbaceous plant, it is a perennial which can reach 65cm in height (25inches).
Leaves: This plant has basal leaves only. Usually two but sometimes one. Each leaf is divided into three almost equal parts.
Flowers: The flowers are irregular in shape and are up to 8cm long (3 inches). They are green with purple or brown stripes sometimes brownish. Blooms first appear in mid spring and continue into late spring. The spathe (pulpit) is most often green streaked with purplish. The spadix (jack) is covered with tiny male and female flowers.
Fruit: A cluster of bright red shiny berries.
Habitat: Rich moist woods.
Range: New Brunswick south to Florida.
Color Photo
More Info
Classification
---

Ads on this page help pay for this site but if you see one that seems inappropriate here such as one that is counter to the pro environmental theme please let me know which Ad and I will block it.
Report a Bad Ad
---

Daniel Reed


If you are lucky enough to view many of these plants in different areas you may notice three distinct forms. Some botanist classify them all as variations on a single species and others as three separate species.

Historical Lore: Calcium oxalate crystals present in the entire plant will cause a powerful burning sensation if eaten raw. Properly drying or cooking removes this effect and the Native Americans used the root as a vegetable. There is one account stating that the Meskwaki Indians would put finely chopped root into meat they would leave for their enemies to find, principally the Sioux. The meat was flavorful and would be consumed, but, in a few hours these enemies would be in so much pain they would die! It is reported that they also used it diagnostically by dropping a seed in a cup of water and if the seed went around four times clockwise the patient would recover and if less the patient would die.

Medical Uses: Despite its possible irritating effects there are several accounts of Native Americans using a preparation of the root on sore eyes. It was also used for cold symptoms and as a tonic. Externally it has been used for various skin infections and against pain and swelling.
Warning: No part of the fresh plant should be taken internally.

---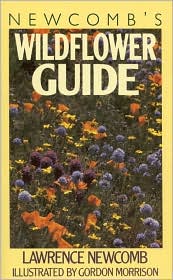 By: Newcomb, Lawrence and Illustrated by Morrison, Gordon. 1977, Little, Brown and Company, ISBN:0-316-60442-9

One of the best general guides to wildflowers of the North Eastern and North Central United States. Newcomb's key is an excellent, simple method for identifying plants. Newcomb has drawings for almost every plant mentioned that are excellent aids to identifying the species. Though only the more common plants are covered this is often the first book I pick up when trying to identify a wildflower.
---
Wildflo wers of Tennessee the Ohio Valley and the Southern Appalachians
By: Dennis Horn and Tavia Cathcart and Thomas E. Hemmerly and David Duhl. , ISBN:1551054280

This is perhaps the best of many field guides covering this region. Featuring 446 excellent color photographs (located with the text) and mentioning as similar to those illustrated are another 800 or so species for a total coverage of over 1,200 species. The start of each family section includes line drawings of some of the species showing important features. The text includes the usual description, bloom season, range, habitat and additionally includes information such as medical uses and lore and how the species was named. This is the official field guide of the Tennessee Native Plant Society.
---
---
Kingdom
Plantae
Plants
|
Division
Magnoliophyta
Angiosperms / Flowering Plants
|
Class
Liliopsida
Monocots / One Seed Leaf
|
Subclass
Arecidae
Arum
|
Order
Arales
Arum
|
Family
Araceae
Arum
|
Subfamily


|
Tribe


|
Genus
Arisaema
Jack in the Pulpit
---
Welcome / Glossary / Books / Links / Feedback / Image use policy
---
www.2bnTheWild.com - Wildflowers of the Southeastern United States, Page updated on 7/29/2000 5:52:29 PM.